Once upon a time a cute ginger lass awoke to find that her normally straight mane had been transformed — as if by magic —overnight, into an interesting tangle of unruly, beach-like waves. Since that day she has pondered as to why this happened, and what she should do about this new-found hair "super-power".
Be
lieve it or not, that ginger lass is me, and it was seriously like waking up with someone else's hair! Looking into it further I discovered that my issue isn't unique, and that many men and women who once had pin-straight hair have evolved into wavy and curly locked individuals. Hormones, stress and ageing are the common causes for changed to your hair's texture and quality.
Knowing the reason behind my newly sprung curls was step number one — finding PRODUCTS, and learning how to STYLE my hair now became the issue. Not knowing the first thing about how to style curly hair, my first inclination was to simply do what I've always done: apply serum to my damp hair, comb, blow-dry & round brush to finish. Well, that's all well and good IF you want to suppress any natural qualities and blow out your hair, but it doesn't do much for those wanting to ENHANCE waves and curls!
I decided to take my query to the professionals. The next day I asked my stylist
Brittney what she would recommend for my freshly wavy strands. She suggested a Davines' product called: "This is a Curl Building Serum" (Quite the name, I know!). She informed me that TIACBS contains all natural active ingredients, and has been specifically formulated to minimize resin content to reduce any flaking. The combination of different ingredients (all of which have amazing natural moisturizing components) creates a deposit of water molecules onto your hair shaft, gradually releasing themselves in order to enhance the product's performance — keeping your hair healthy and moisturized longer!
Essentially, this weightless, frizz taming, curl & wave enhancing serum defines your locks with very little product consumption and leaves hair looking and feeling beautiful. I was informed that layering it with a partnering product is also a good idea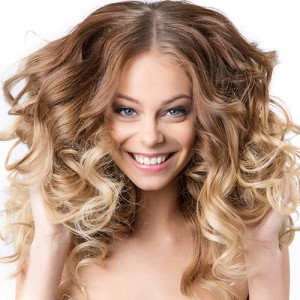 for those with unruly tangled tresses; Brittney recommend trying Davines' "This is a Curl Moisturizing Mousse", then using a diffuser attachment for your dryer & drying to about 80% and allowing the final bit to dry naturally. The end result is an amazing mane of hair that's soft to the touch, with plenty of shine.
To use TIACBS, simply doll out a generous amount of product onto your palms, distribute evenly on damp hair and get to styling — as described above. That's it! My normally spastic waves were now transformed into beautiful, touchable curls! The best part? It stayed that way all day & into the night. Brushing was the only thing that managed to even slightly frizz my curls, so try to avoid using a brush as much as possible. I've even invested in an old-timey pick, just to keep the tangles at bay.
In conclusion, "This is a Curl Building Serum" definitely lives up to its name, even though it's a mouthful.
Benefits of "This is a Curl Building Serum"
enhances curls in wavy hair
gives elasticity to curls
defines without weighing down
natural glossy effect
anti-frizz effect
humidity resistant
This is a Carbon Neutral/Zero Impact Product.